Miatas Doin' The Charleston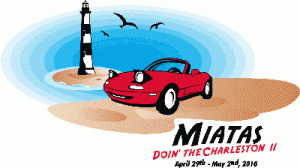 The Lowcountry Miata Club hosted their second Southeast Regional Event April 29th through May 2nd entitled "Miatas Doin' The Charleston II".  The event was attended by about 150 cars from 38 states and Dent Dynamics was invited to be the official paintless dent removal company.  Their were many events including river cruises, dinners, guided tours and excursions. I spent the days Friday and Saturday removing dents and dings.  One of the cars was a 16 year old 1994 Miata that had quite a few dents on every side panel.  Miatas can be a challenge to work on but that's where I find the reward.

The Lowcountry Miata Club hosted the event for a second time.  The first event was in 2008. They are a really passionate group of people.   Twice a year, once in the Spring and once in the Fall, they have their Tech Day events.  During these events I go and spend the whole day removing dents that their prized Miatas have accumulated.  These people love their cars and are a fun bunch.